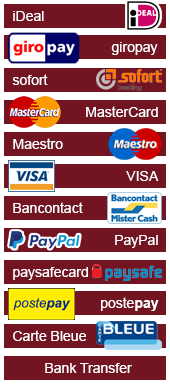 We ship worldwide - Prices at our webshop are including 21% VAT.

For deliveries to countries outside the European Union (EU), no VAT will be charged.

Shipping Action:
* Free shipping with in the Netherlands and Belgium from € 50 or more.
No discount for other countries.

See tab Shipping & Paying for all the shipping rates.
(Action is valid for the Order Total incl. VAT and excl. Shipping and only for orders via the webshop).

The following days we are closed (webshop will be open):
- Tuesday April 27 (King's Day)
- Thursday May 13 (Ascension Day)
- Monday May 24 (Whit Monday)

Webshop orders, placed during our closure, will be processed from the next working day!